The beautiful Chillon Castle is located on a small island on Lake Geneva, in Montreux. Chillon Castle is a delight not to be missed when visiting Switzerland. Chillon Castle is very old and was often disguised as a mansion and similar buildings – all of which the Count wanted. The architecture of this castle is a spectacle not to be missed, of course. Apart from the beauties, Chillon Castle has much more to offer. You definitely have to go on a wine tour where you will additionally be able to enjoy Lake Geneva. The era of this castle was the era of knightly armor, which gives a special historical flair.
Read more about the castle from the article by Martine Bernier.
Tailor-made and delicious visit offers at Chillon
A medieval masterpiece between the lake and the Swiss mountains. At the other end of the drawbridge, an unforgettable experience awaits you in a place that has inspired the greatest artists. The castle offers tailor-made visit packages, at once romantic and historically authentic: whether alone, as a couple or in a group, let a medieval-robed guide or the audio guide accompany you through the castle, or discover it on your own. This unusual tour takes you on a journey back in time to the era of the Dukes of Savoy and leads you through over 40 rooms, from the basement to the top of the 30-metre-high keep.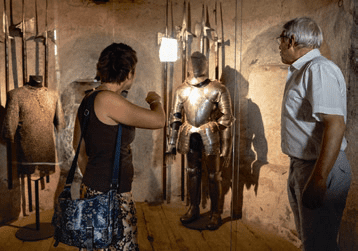 Focus on the wine tour
The wine tour, served by an official castle guide, begins in the wine cellar with its Gothic vault, where oak wine barrels were stored as early as the 13th century. Here visitors can see the 40 barrels in which the castle wine is made today. One of the barrels is equipped with a disc so that the winemaking process can be seen with one's own eyes. After viewing the highlights, guests are invited to a traditional Vaudois aperitif consisting of the red and white Clos de Chillon château wines, handmade aperitif pastries and local apple juice – accompanied by the breathtaking view of Lake Geneva and the Alps! Pssst, a little secret: a hidden staircase leads from the wine cellar directly to the tasting room. Do you dare to climb up to taste our delicious wines?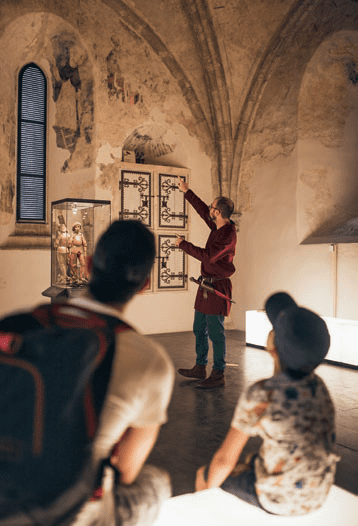 Further themed tours and information at: www.chillon.ch